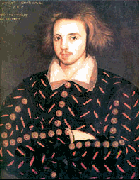 Under the date in the upper right hand corner of this portrait is the Latin inscription "Quod me nutrit me destruit" (That which nourishes me destroys me). The phrase is strikingly echoed in Sonnet 73: Consumed by that which it was nourished by.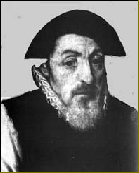 Big Bad John, Canterbury Archbishop Whitgift

A brief stab at the life of Christopher Marlowe
The "morning star" of Elizabethan poetry was born to Catherine and John Marley, a cobbler, in the international city of Canterbury, England, on February 26, 1564, two months before the famous actor William Shakespere entered the world in the backwater town of Stratford.

By age fifteen, Christopher proved himself to be "well instructed in grammar and able to make verse." He was awarded a scholarship to King's School, Canterbury by the local Archbishop Matthew Parker. Two years later, in 1580, Marlowe was enrolled at Cambridge University as a Parker scholar, perhaps in preparation for Holy Orders. While at Cambridge he was recruited into Her Majesty's secret service, testified to by a note from the Privy Council addressed to the Cambridge University administrators who were trying to deny Marlowe his Master's degree in 1587.
During the years 1587-1592, the young dramatist triumphed as a playwright for the London-based Admiral's Men acting company with astounding tales about atheists, magicians and villains. The young actor Edward Alleyn rose to stardom in the roles of Tamburlaine, Doctor Faustus, and Barabbas, the Jew of Malta.
Marlowe's early success came at a time (1587-1592) when his contemporary in Stratford was the young father of three in a rustic town a hundred miles to the north. However, Christopher's morning star was soon dimmed. In late 1592 and 1593 some unpleasant events occurred, including public charges of "atheism," an offense punishable by death in the days of the Elizabethan church-state. Like other intelligent men of his day, Marlowe believed that Archbishop John Whitgift exceeded his moral authority in stifling opposing views of Elizabeth's church. Kit wasn't the only educated man of the day who questioned the wisdom of the prelates. But perhaps he went too far: a note against the outspoken poet listed some outrageous statements he allegedly made in the presence of the informer, Richard Baines.
In early May, 1593, some inflammatory verses against the Dutch Protestant immigrants were posted on the wall of the Dutch Churchyard. They were signed "Tamburlaine," an obvious attempt to implicate Marlowe, since the dramatist's play by that name was in its seventh year of performance. After obtaining further evidence against him from another dramatist, Thomas Kyd, the Star Chamber caught up with Marlowe on May 20, when the poet was arrested at the home of his close friend and patron, Thomas Walsingham, and escorted to London to answer some questions. No record remains of the proceedings, but London's top young dramatist was immediately released, subject to daily recall at the pleasure of their Lordships.
Within ten days of his arrest, Christopher Marlowe was reported stabbed to death by Tom Walsingham's servant, while in the company of two other intelligence agents. The coroner was instructed by a writ from Queen Elizabeth to submit an inquest report that would stress whether Marlowe's assailant acted in self-defense--or not. It wasdetermined that he had, and Ingram Frizer was free as bird a mere three weks after committing his offense. By that time, Marlowe had been buried for three weeks--unless he was still alive somewhere, at work on his "graver labor," The Rape of Lucrece, about the ousting of a tyrant and the founding of a Republic.